22 mars 2022
CoopAnimArt: Occitanie en scène, the lead partner of a new project
---
Since last November, Occitanie en scène has been the leader of the new CoopAnimArt ! cooperation project!
Carefully planned for spring 2021, CoopAnimArt is an Erasmus+ cooperation project aiming to develop the physical, digital and ethical cooperation skills of people working in the live performance sector.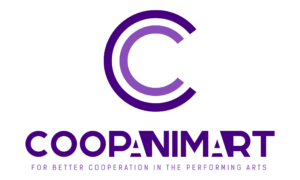 The aim is to equip exponents of the performing arts sector to work together, in the firm belief that it is the ability to cooperate, to act together, to build creative solutions that will enable us to face social, economic, ideological and health challenges.
The project is based on experimental training schemes, focused on individual and collective development, to promote the use of cooperative leadership and collective intelligence techniques, and thus improve the capacity to cooperate and work as part of a network, encourage experimentation and develop a high level of participation.
Several actions will be deployed until October 2023, to achieve the project's objectives:
• the creation of a coaching process in the form of hackathons using a fun and innovative teaching aid
• the organisation of transnational seminars
• the setting up of professional tandems
• the implementation of a system to transfer know-how
• the organisation of tutorials and local co-development workshops
• the production of a documentary film on the whole experience
As a lead partner, Occitanie en scène will coordinate all the actions of the project, but more particularly will be in charge of the design and prototyping of the accompaniment programme.
Seven European partners have joined us to implement this new project effectively, co-financed to the tune of €385,540 by the European Union's programme Erasmus+ de l'Union européenne Artemrede (Portugal), Centrul Cultural Clujean (Romania), Mosaic Politismos & Dimiourgikotita (Greece), Synthesis Center for Research and Education (Cyprus), Smart Idea (Slovenia) and Sín Művészeti Központ (Hungary).
For more information:
The page on the Occitanie en scène website: CoopAnimArtThe
Facebook page: Facebook
Occitanie en scène:
Sandrine Courouble
+33 (0)7 66 05 80 70
coopanimart[@]occitanie-en-scene.fr
CoopAnimArt is co-funded by the European Union
under the Erasmus+ Programme.

Partager la publication "CoopAnimArt: Occitanie en scène, the lead partner of a new project"